Get the new L'Osteria song by Armando Quattrone!
15.09.2016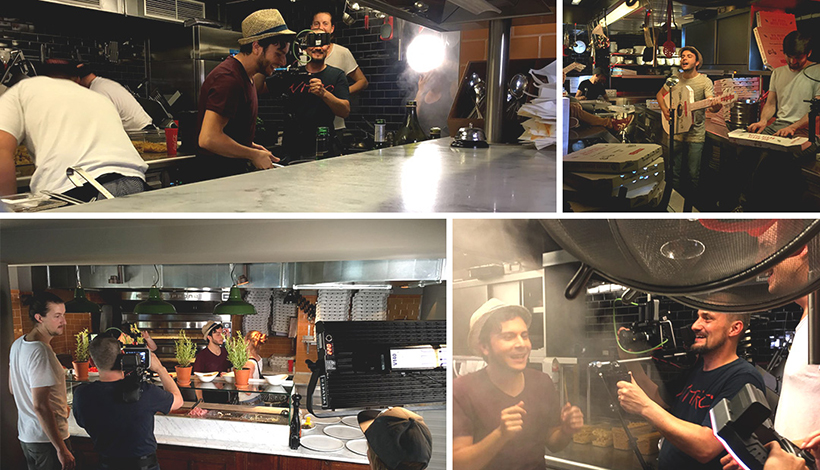 A song about friendship, love and joie-de-vivre – everything that L'Osteria stands for: Armando Quattrone, the successful Italian newcomer in Germany, has dedicated his latest song to L'Osteria! The singer-songwriter also produced the video to the song in our restaurant. We think this homage to Bella Italia is well worth a look and a listen. The best of the best: you can get the L'Osteria song exclusively on our website as a free download!
Armando Quattrone scored a huge hit in 2015 with his song 'Positivo' in the Aperol-Spritz advert. It is hardly surprising. His music is a great blend of Italian pop, reggae and tarantella – it puts you in a good mood, brings out that holiday feeling and beckons you onto the dance floor. In other words: it fits in perfectly with the happy, lively atmosphere at L'Osteria.
So it was logical to capture this unique voice in a song and to share it with our guests and friends in the form of a music video.The musicians and L'Osteria also share a long-standing friendship – Armando Quattrone and his band have already been to many L'Osteria launches, creating a great atmosphere playing their hits live. When one evening we had the joint idea of creating a L'Osteria song, the singer-songwriter was immediately fired up. 'L'Osteria is my second home. It was naturally a pleasure for me to write the official L'Osteria song,' said Armando Quattrone.
It didn't take long for L'Osteria song to take shape. The musicians even came to L'Osteria in Elisabethstraße, Munich to produce the music video, despite their tour across Germany, Italy, Austria, Switzerland and England running in parallel. The video to the song evolved over two days of shooting with running production and with the help of many spontaneous contributors. Armando Quattrone is also very happy with the result: 'We had immense fun! The lyrics are about celebrating with friends and family – and we did just that.'
Why are we giving away this great catchy tune? As a little thank you to our long-standing guests and friends at our restaurant. You are the best!
More information about the band can be found at: armando-quattrone.com