27.04.2015
If you've ever enjoyed one of our best best pizzas, you know: size does matter! Because the L'Osteria pizza is so huge that it is larger than the plate and our question "In two halves?" is quite a serious one.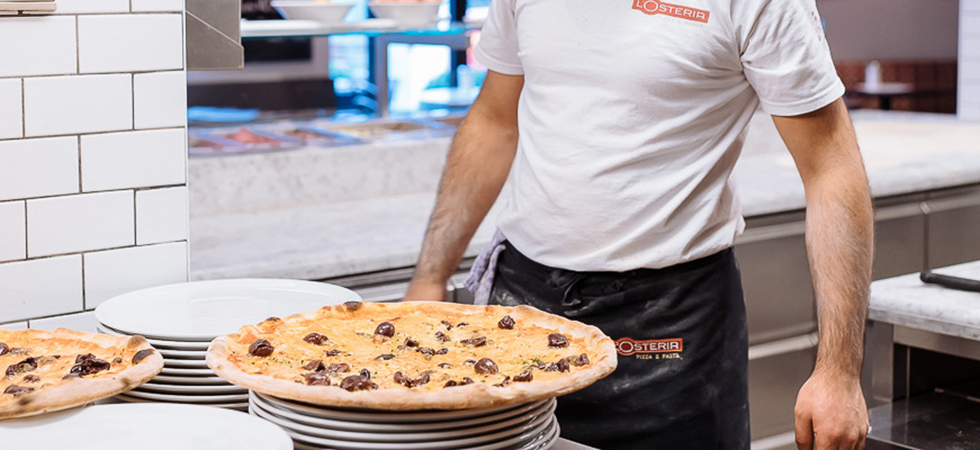 PIZZA ALLA MAMMA
When it comes to cooking, we stay true to the Italian Mamma: "Bambini, take some more." And since we're of a practical nature, we just go ahead and make sure to serve you a sizeable Italian portion right away.
You already know that you won't be able to manage our portions alla mamma? No problem at all! We're happy to put different toppings onto each half of the pizza so that you can share it with your friend or family. And if it's still too much, we'll box your leftovers for takeaway.
HUGE BUT NOT THICK!
The dough is shaped by hand to the exactly right size by our pizza chefs. That looks easy but it takes a lot of training. One hand determines the direction to spin the dough, while the other is pulling it. With a lot of finesse, we craft a very thin pizza crust alla mamma.
BAKED IN THE STONE OVEN
Once the pizza crust is topped as you desire, it goes into the stone oven where it is baked at 300°C for four to six minutes. Now is the time that our thin crust really matters: the heat bakes the pizza very fast but still keeps it crisp and not soaked by the toppings.
And finally, the best best pizza goes onto your plate. We wish you buon appetito.